Wednesday 7 May 2014
Almaty Office, Kazakhstan
+25°C Sunny
Day one of our 3 day field trip to a proposed mine site in the remote western mountains of Kyrgyzstan started before dawn with a 6 a.m. departure from Bishkek, the capital city of the mountain republic of Kyrgyzstan.  Two vehicles were deployed for the 1,500km round trip over 3 days and the first day saw us checking the route from Bishkek to the town of Al Buka, a distance of around 550km. 
I had checked most of this route in 2011 in worse weather than we suffered on this trip (when we met with long tail backs on a south approach mountain climb to the Too Ashuu Pass).  The road is good two lane main road for the first 450km to Tash Komur, then narrow two lane mainly asphalt road to Ala Buka.
The weather was sunny and clear all day and roads were clear and ice free.  We headed west from Bishkek towards Kara Balta where the main road turns towards South-Western Kyrgyzstan, with its main city of Osh, We skirted Kara Balta on a narrow detour, re-joining the main highway at the first of two toll gates.
From here at 750m a.s.l. the road climbs a narrow valley with switchbacks near the summit with its infamous Too Ashuu tunnel at 3,000m a.s.l. - infamous because the tunnel is about 2km long and while two lane it is quite narrow, because apparently not long after construction a few years ago, an accident occurred in the unventilated tunnel and people suffocated from exhaust fumes.  Ventilation subsequently installed reduced the tunnel's dimensions and when busy with heavy loads, a one way traffic system is employed.  There was little traffic as we passed through the tunnel, now noisy from ventilation fans.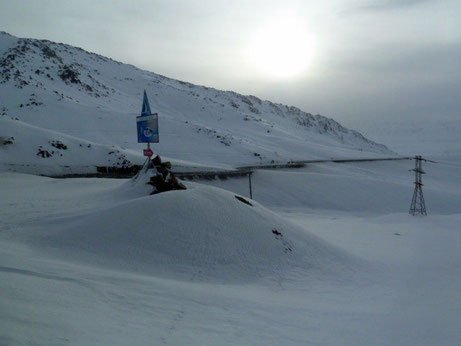 In contrast to the north approach, where there is no snow at all, the mountains immediately to the south of the summit were still heavy with snow, although the road was clear.  Too Ashuu ski resort at the summit was still open, but we learnt later that the slopes were not good that day – the wrong snow apparently.
We stopped for a short snack (and smoking) break after the tunnel, the first of many such welcome breaks.  The lead vehicle – a Toyota Sequoia, in addition to the excellent driver carried the American Project Director, his local project manager and me. The second vehicle, a Mitsubishi Delica 4wd, also in addition to the driver carried the interpreter/project coordinator (also the trip bursar and ardent Chelsea fan) and a security person, who fortunately was not needed; not sure how he planned to protect us anyway and didn't want to ask.  Not that there was much chance of him being called on to use his skills – such problems in this country are extremely unlikely.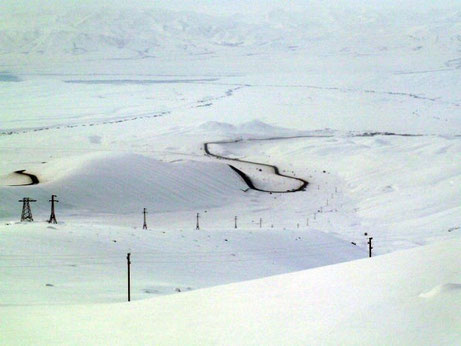 The road wound down the mountain and the altitude lowered gently towards Toktogul (manmade) Lake on the Naryn River.  Shortly before Toktogul village we stopped for lunch even though it was only 10.30 a.m.  Facilities are few and far between on this route, especially at this time of year, and we had to take advantage of resources wherever and whenever we could. A fine lunch of local fare – Manti: a type of meat-stuffed ravioli swimming in soup and copious amount of lepurshka bread, with green or black tea. 
Lake Toktogul backs up water for downstream hydro-electric facilities but the water was very low.  Not so downstream from the lake though where the Naryn water is controlled and an attractive shade of blue.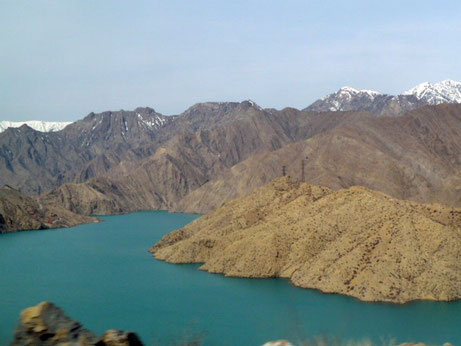 Early afternoon saw us arrive at the town of Tash Komur, once a thriving coal community but now much reduced.  We had several places to visit in this vicinity and it is clear that it had seen better days during the Soviet era. The rail line to Tash Komur is no longer used except for infrequent shipments of coal, and overhead electric lines had long since been redeployed elsewhere.  Tash Komur was the end of this particular line and 30km west it headed off into Uzbekistan, as do the 3 other lines into Kyrgyzstan in the SW of the country.  The only other rail line into Kyrgyzstan (from Kazakhstan) is to Bishkek with an onward spur to Balykchy for mining cargo purposes.  In all Kyrgyzstan has less than 400km of track all of which terminates in-country; this really was the end of the Soviet line.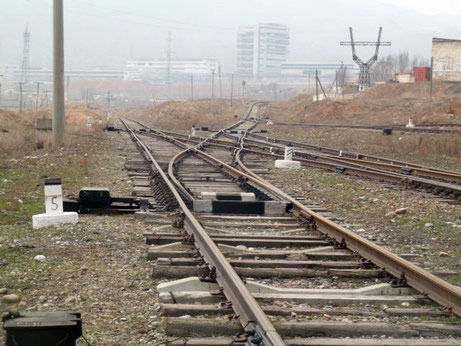 Our final task of the day was to survey the 100km route from Tash Komur to Ala Buka, where we would stay for two nights.  This route is mainly narrow two-lane asphalt but uneven and poorly maintained.  The road borders the Eastern fringe of the fertile Fergana Valley and at less than 1,000m a.s.l. near Tash Komur, the climate is milder with no sign of snow.  Where temperatures further north had been low, it was much warmer here, rising to 18°C at times.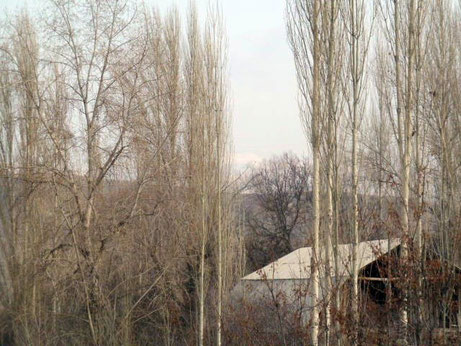 Ala Buka (1,240m a.s.l.) is a remote rural town of a few hundred people.   We checked into the one and only hotel in the town (and region – the next hotel is at least 180km).  It turned out to be reasonably comfortable with six twin-bed/single rooms in our block and dormitory rooms in another block.  Our block shared washroom facilities, which were adequate, western-style and the water was hot.  The hotel did not provide food though and as it was a national holiday it took some time to locate a restaurant willing to provide us with meals.  A suitable place was duly located near to the town's small market and the proprietor persuaded to open up for us.  Although this did not auger well with the choice of Lagman or nothing, the meal turned out to be tasty and filling.  The local Lagman (noodles, vegetables, meat of some sort – probably goat or lamb – in a tasty soup) came of course with local bread.  Delicious!  Picked up fruit for breakfast at the market on the way back to the hotel.
An early night for all – we were tired and heading out early next morning.
Day 2 of the field trip to follow.