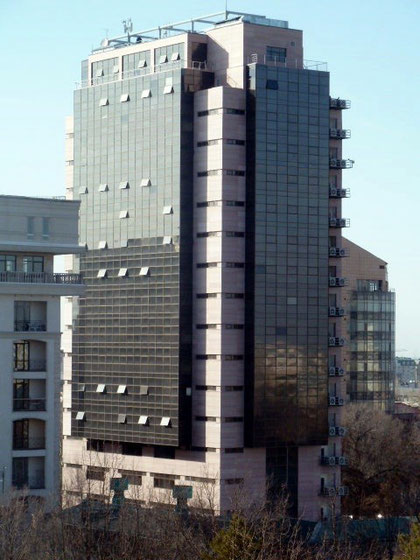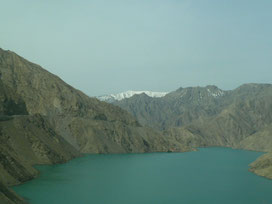 Thursday 1 May 2014
Almaty Office, Kazakhstan
+20°C Sunny
In March, CBC received an assignment for a logistics assignment in Kyrgyzstan, requested by an international mining engineering company on behalf of a proposed gold mining operation in the remote mountains of western Kyrgyzstan.  As this included a field trip I set off on Tuesday from Almaty airport, where our Central Asia office is located, and flew 40 minutes flight time with Air Astana but nearly 4 hours total travel time.  This is about the same time as by road – a pleasant trip on good roads - from Almaty to Bishkek city centre, even allowing for the border crossing, which can sometimes be crowded.  However in March, weather isn't always reliable and there is a risk of road delays especially on higher ground.  As I had to be back on time I chose to fly – a round trip of $140. 
Road border-post Kazakh immigration officials stamp passports once and your immigration slip once.  This slip must handed to immigration at the point of departure from Kazakhstan on pain of financial penalty and a lot of bother.  This also inconveniently requires visitors to Kazakhstan to register with immigration within 3 days of arrival at Kazakh destination, again on pain of (see above).  However, by air travel, immigration in Almaty airport additionally puts two stamps on the immigration slip thereby allowing citizens of most countries to stay for up to 90 days without further registration – a good reason to arrive by air.  It is rumoured that visa rules are slowly changing in Kazakhstan to encourage more tourism and business but it is a slow process, meaning it currently remains hard to visit the country.  Next door in Kyrgyzstan, no visas are required for citizens of most western countries – the doors are wide open now.
Next day (Wednesday) allowed me time to meet with in-country logistics providers (by prior arrangement) all located in Bishkek, the capital city of Kyrgyzstan.  Kyrgyzstan is a land-locked country bordering Kazakhstan to the North, China to the East, Tajikistan to the South and Uzbekistan to the West.  The country is beautifully mountainous with spectacular scenery, allowing trekking in summer and skiing in winter.  The huge Lake Issyk-Kul is the world's second largest alpine lake.  Bishkek is the most modern of the country's cities, but apart from several smart new buildings in the city centre, the city is old and under-developed.  This isn't going to change any time soon unless the country achieves better political and financial stability.  Over 80 parties participated in the last national election and the parliament is made up of so many differing interests, it is difficult to make headway. Until this is resolved, investment in the country, mining or otherwise, will be constrained.  Cities, towns and villages outside the capital are low-rise, rural and mainly stagnant, although some money is being pumped into the economy, often from China and Russia, to improve infrastructure, which is now seeing signs of wear and tear since the breakup of the Soviet Union.  Nevertheless, this is an interesting and generally safe place to visit, with friendly hospitable people.  I have been many times and always enjoy the country.
Thursday saw me spend the day at the mining company's office in Bishkek meeting with the team, reviewing and finalising the scope of work and planning the forthcoming 3 day field trip.  The objective was to review transportation options during construction and subsequent operations, determine maximum load sizes that can reasonably be expected to transit to the proposed high altitude mine site and consider storage and transportation needs for ongoing operations.  
On Friday morning we set off in the dark at 6 a.m in a 2 vehicle convoy.  More about this in the next blog.