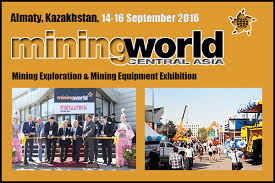 Last week, Kazakhstan hosted Mining World Central Asia exhibition in Almaty from 14 - 16 September. 
It was better this year with less Chinese and Russian influence and more of an international flavour. Three halls were filled with exhibitors which was an improvement over recent years and a wider range of exhibitors seem to be returning.
Outdoor exhibitors are conspicuous by their absence though. The yard was filled a few years ago. Now there are very few exhibitors showing large outdoor equipment. Borusan, the Kazakhstan Caterpillar dealer, was once more absent as they have been for many years now.
Attendance seems to have improved too, which appeared to catch out organisers ITE as registration meant a 30 minute queue.
It was worth attending the exhibition (as I am in Almaty right now) but unless you have specific targets, you can be in and out in an hour! 
---
UKTI organised a trade visit to Kazakhstan to coincide with the Mining Exhibition and, as a delegate, and I attended some of the meetings.
This will be covered in more detail in my next blog